A very positive review from Nursing Times, June 2018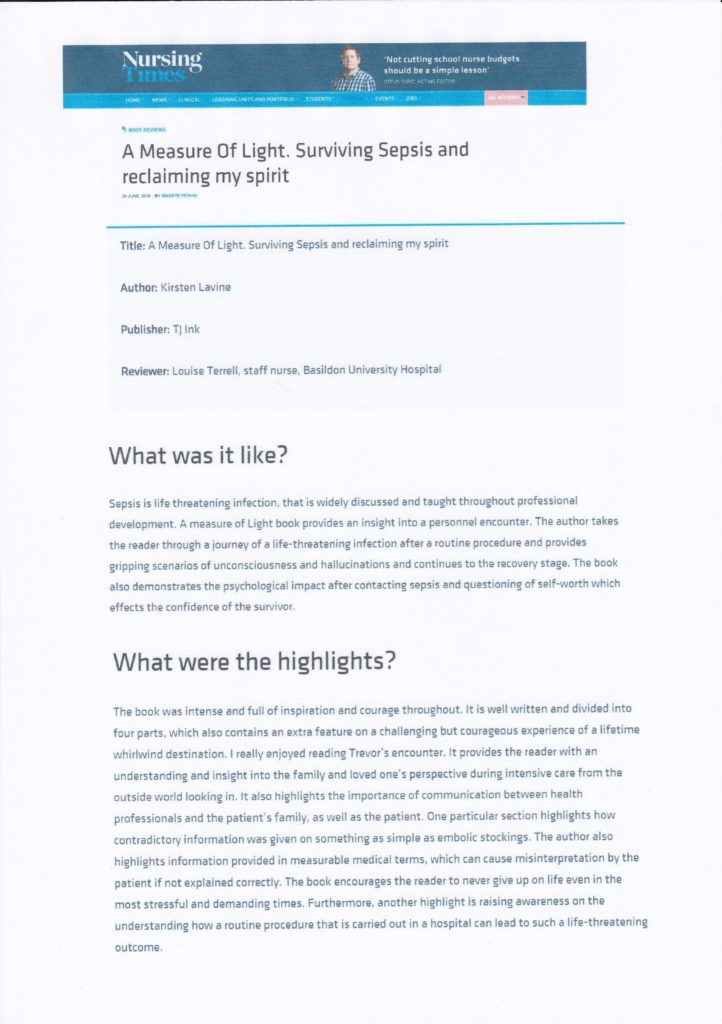 UK Sepsis Trust and Global Sepsis Alliance reviews:
A Measure of Light is an informative and engaging read, while treating the subject matter with the respect it deserves. A valuable resource for health care professionals, providing insights into the perspective of the patient, while offering hope and encouragement to other survivors and their families.
—Larry Matthews, Support Lead, UK Sepsis Trust
A Measure of Light is a very informative and emotional book by a sepsis survivor. It provides a detailed insight into the nature of this terrible disease, and is encouraging not only for those affected and their relatives, but also for health care professionals.
—Marvin Zick, General Manager, Global Sepsis Alliance
Reader reviews:
Having also spent time in ICU in 2015 with Septic Shock and pneumonia, I was fascinated to read this book. So similar to my story, it brought back lots of memories. Felt proud of Kirsten. What an amazing comeback, to write a book like this for others. Amazing!
–Lisa Presland, Bristol
Excellent book. It is well written, concise and to the point. It covered a topic I knew very little about. This will be of great benefit to medical and nursing staff who have to care for people suffering from sepsis. More widely, it gives a very clear insight into what patients might experience while in a coma.
The book relates the personal experiences of the both the person suffering from sepsis and her partner. A very good and interesting book for both medical staff and the interested reader.
–Liz, Wolverhampton
For me, the book had an unexpected 'thriller' aspect, and to my surprise I soon discovered I was becoming completely hooked on what on earth would happen next. But, of course, it is more than this. There were other intriguing areas: the positive that can follow a jolt, the power of human support, the strange delusional world of hospitalisation.
I identified very much with the 'message' to stick with your own convictions and try and get the established medics to adjust their rigid treatment programme if at all possible to take on board your own convictions.
–Frank Cockett, Woodchester
A personal and intimate experience portrayed with clarity and objectivity, of an unexpected trauma. The author takes us through the whole process of a life threatening infection following a routine procedure, from unconsciousness and hallucinations to gradual recovery, including the consequences for all around her.
–P and S Collins, Stroud
Great book, concise and informative, and at the same time engaging thanks to the pace of the narration and the author's witty sense of humour. I was recommended this book and I really enjoyed the reading. It's interesting to see how medical procedures and treatments are perceived from a patient's perspective.
-F Pellegrini, Bristol
Not knowing much about sepsis, I really enjoyed this book. It is well written and edited, and keeps the reader involved in the story. It follows the author's experiences after unexpectedly coming down with sepsis after a routine medical procedure – I enjoyed the descriptions of trying to get edible nutritious vegan food in hospital. It also follows the impact sepsis had on her life afterwards, and how she was inspired to go ahead with adventures and living life more fully despite still not being completely well. This book is an interesting read particularly for anyone affected by sepsis or experiencing ongoing medical problems, but also for anyone wanting to change something in their lives and needing inspiration.
–Deanna Marabeck, Henleaze
An excellent book giving a clear insight into the world of Intensive Care as seen from a survivor's perspective. It both displays the frailty of the human body, and the resilience of the human spirit in equal measure. Kirsten and her partner battle successfully, not simply for her survival, but also to preserve what made her Kirsten. Beautifully touching, amusing and well written. A very good read.
–Greg F, Ballymena
This was a real page-turner: I just had to find out what happened next! It was a fascinating insight into what happens in the mind of someone in a coma, a story of deep friendship, and a struggle against the odds. For anyone finding themselves suddenly "medicalised" (which could happen to any of us) it is also a lesson in holding onto your beliefs and trusting your own intuition about what is good and necessary for you, rather than just letting the medical profession have their way. Funny and informative along the way, I thoroughly recommend it. I very much liked how it was clearly laid out in sections.
– Pam B, Lawrence Weston